How to Configure WireGuard on DD-WRT Router
This guide will help you through setting up an ExtremeVPN Wireguard connection on DD-WRT Router.
Requirements
Stable Internet connection
A new version of DD-WRT firmware. To set up the Wireguard connection, you must have a DD-WRT build of 43045 or higher. If you don't have a suitable version, you can download it through this source: https://ftp.dd-wrt.com/dd-wrtv2/downloads/betas/
A premium account of ExtremeVPN (purchase it through this source if you don't have one already)
To find your VPN credentials, visit the member panel of ExtremeVPN.
Sign in to the Member area using your registered email address and password.
On the subscriptions tab, you will see the VPN credentials by scrolling down.
Check your login details from there.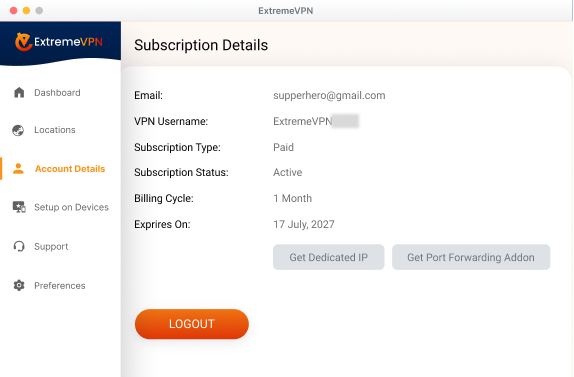 Note down your VPN username. To see your password, click on the Eye button. It will display your key for manual configuration.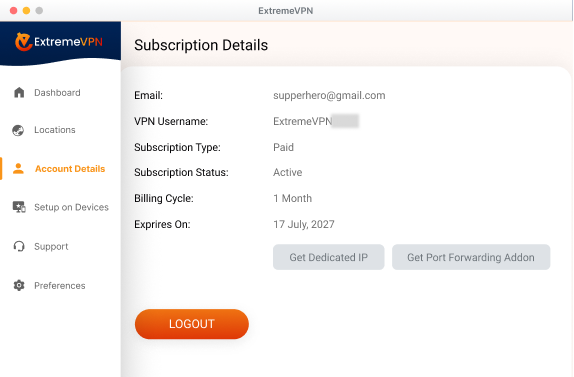 Sign in to your router control panel by inserting the router's IP, 192.168.1.1, into the address bar of your default browser. (If you've changed your router's IP, add that instead). Type in the administrator username and pass and sign in to your router.
Now proceed to the Setup tab, press the Tunnels option, and then tap on Add Tunnel option.
Head to the Members Area and install the required Wiregaurd configuration file.
Now fill in the required information as follows:
Tunnel: Turn in on
Protocol Type: Select Wireguard
MTU: Choose 1412
Local Public Key: Tap on Generate key button to create the field.
DNS Servers via Tunnel: Insert the DNS values you got from the wireguard config. file.
Local Private Key: Copy & Paste the Private key you got from the wireguard config. file.
Now press on Add Tunnel button to modify(edit) the Peer Section.
End Point: Turn it on
End Point Address: Type in the endpoint server address and port no. collected from the config. file.
Persistent Keepalive: 21
Peer Public Key: Copy & Paste the public key collected from the config. file.
IP Addresses/Netmask: Type in the IP Address you got from the config file.
Lastly, tap on Save and then hit Apply Settings. The Wireguard connection will be configured successfully within seconds.
Got help from this article? Share your valuable comments below. Your recommendations matter to us and everyone else in our Cyber Security Community.