Watch Your Favorite Content on Roku with ExtremeVPN
Circumvent geological restrictions and enjoy your entertainment time using the best Roku VPN.
Hide your IP address from malicious online trackers
Stop worrying about ISP throttling with our impenetrable VPN encryption
Stream your favorite content with a 10 GBIT connection speed
Enjoy
Streaming on Roku

Anytime with ExtremeVPN

Roku devices allow you to enjoy your leisure time on TV with your family. Plug your Roku device with the TV, turn the internet on, and enjoy streaming your favorite shows or movies!

VPN lets you watch all the content online, even those restricted in your area due to distribution rights. Integrate your Roku device or 4K Roku stick with a VPN and access all the content present on popular platforms like Netflix, Youtube, Amazon, and many more, directly on your TV. VPNs also assist you in going around your ISP's conditionality for using the internet. For instance, if they track your online sessions via streaming devices, they can slow your internet connection by bandwidth throttling, which ruins your entire experience.

Using ExtremeVPN, you can take complete control of your streaming activities by bypassing network latency and preventing ISP throttling.
Why is Roku
Inaccessible

in Some Regions?

As with many streaming services, geo restrictions set to your region may restrict the availability of certain shows and channels. It happens sometimes because of the distribution rights. You can't possibly access this restricted content on Roku unless you are using a reliable VPN like ExtremeVPN.
Why
Access

Roku with a VPN?

Generally, your IP address plays a smart role in accessing any online platform or service. When you are online, your internet service provider (ISP) assigns you an IP address for your location. Online platforms leverage your IP address to enforce appropriate content limitations.

As a VPN subscriber, you can enjoy all the fascinating features of Roku devices. A VPN hides your actual location by masking your IP address and providing you with your preferred location's IP address. By incorporating VPN on your router, all connected devices to your router, including Roku, can access content without any restrictions.

VPNs do not just facilitate you in accessing geo-blocked content but also benefit you by protecting your internet activities from your network administrator, ISP, and prying eyes. In other words, you can enjoy watching your favorite content on any platform without worrying about your privacy and security.
Use ExtremeVPN on
Roku

in 3 Simple Steps

Installing ExtremeVPN on your Roku device is quite simple and easy. Perform the following 3 steps and watch your favorite content with incredible connection speeds and security.
---
Step 1
Get ExtremeVPN subscription.
Step 2
Configure ExtremeVPN on your router.
---
Step 3
Connect to you desired server location and you're good to go!
ExtremeVPN's Best Roku TV VPN
Features
No Logs

Policy

Your data security should be the top priority. Look out for reliable VPN providers who have no log policy. Most untrustworthy VPN providers look for cheaper ways to earn by selling your data and internet activities to third parties interested in your viewing history.

ExtremeVPN implements a strict no-logging policy, and it never records your internet activities. Safe to say that your data is secure while surfing with ExtremeVPN.
No
Data Caps
As live streaming consumes significant data and bandwidth, any unwanted interruption due to a VPN data cap could easily spoil your mood while streaming.
ExtremeVPN focuses on facilitating its consumers with smooth streaming every time you are online. It does not impose irritating data caps or bandwidth.
Strong
Encryption
Government authorities or malicious entities always seek ways to get your data. Hence, you require advanced encryption to defend yourself.
ExtremeVPN features 256-bit AES state-of-the-art encryption to protect you from cybercriminals and government authorities.
Advanced
Protocols
Protocols make the base of a VPN and are crucial for protecting you against cyber threats and data collection.
ExtremeVPN uses the best protocols available, such as WireGuard and OpenVPN. WireGuard is famous for its speed, making it ideal for seamless Roku streaming. OpenVPN, recognized as one of the utmost secure protocols, is seamlessly integrated.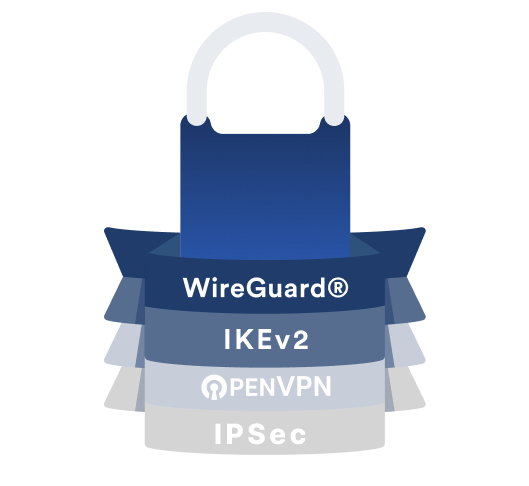 Open Source
Transparency
A VPN having its own application expect you to trust its claims about your privacy. In contrast, ExtremeVPN takes a different approach.
We offer VPN applications that are entirely open source. Moreover, ExtremeVPN utilizes WireGuard and OpenVPN, the top two open-source protocols available.
24/7

Customer Support

If you have any questions about ExtremeVPN services, we have a dedicated 24/7 support team available to respond via email or on-page chat. Our team will resolve your pertinent queries in no time, and you can return to enjoy your Roku streaming immediately.

Besides contacting our team, you can fix things yourself with our extensive searchable database for installation guides and troubleshooting.
How to Watch Roku with a
Router VPN
Buy a subscription to ExtremeVPN and install it on your router for complete online protection. Once enabled, all devices connected to your router are protected. Moreover, the ExtremeVPN subscription benefits by counting all devices as one connected to your router.
How to Get a
Virtual Router

on Your Mac or PC

ExtremeVPN lets you create a virtual router on your desktop computer. Like with the actual router, once the VPN is enabled, all the devices connected to your virtual router are safe from malicious snoops. However, creating a virtual router on your desktop will not protect devices linked with your router.
---
Step 1
Buy an ExtremeVPN subscription, install its dedicated app, & connect to a server of your choice.
Step 2
Turn on the Internet sharing on your computer.
---
Step 3
Set up your computer to host a wireless network and connect the devices to get VPN protection.
What's the
Difference

Between Roku and Amazon Fire Stick?

When opting for a VPN, it's imperative that you carry out proper research in selecting a suitable device.

If you prefer using Amazon services or enjoy streaming on it, then Amazon Fire Stick is a great choice. It is compatible with Alexa and cheaper than Roku devices for streaming. The only drawback is that you can only enjoy 4k streams on top Fire Sticks products, whereas Roku lets you enjoy streaming in 4K resolution on all its devices.

In contrast to the Amazon Fire Sticks, Roku may cost more, but it is worthwhile as it facilitates you with many exciting features. Roku's remote offers additional features to enhance your streaming experience, like push-to-talk voice, private listening, hands-free voice, rechargeable battery, and many more. Safe to say, streaming on Roku is worthwhile unless you have bought an Amazon Prime subscription.
ExtremeVPN vs. Free VPNs: A
Comparison
Integrating your Roku device with free VPNs is not an intelligent choice. Free VPNs offer limited server locations and features you won't care about. Following are the major benefits you will get by subscribing to ExtremeVPN against free VPNs:
| ExtremeVPN | Free VPNS |
| --- | --- |
| ✔No Bandwidth Limit | ❌Internet Caps and Bandwidth Limits |
| ✔Advanced Features | ❌Slow Connection Speeds |
| ✔Lightning-Fast Connection Speed | ❌Limited Servers Options |
| ✔No Logs policy | ❌Tracks All Your Online Activity |
| ✔Open Source Transparency | ❌Limited Security Features |
| ✔6500+ Servers Network Globally | ❌May Contain Virus |
Frequently Asked
Questions
Is Roku available anywhere in the world?
No, Roku is only accessible in a few countries: the US, France, the UK, Germany, Canada, and 10 other Latin American countries. When you are overseas and want to access your Roku account, ExtremeVPN makes it simple for you. Change your IP address to your home country using ExtremeVPN and enjoy Roku as you do at home.
Why do I need a Roku VPN?
Without a VPN, you will not enjoy your streaming in peace. As streaming consumes high bandwidth, it can pose you as a target of your ISP throttling. With VPN enabled, you can watch your favorite shows on Roku as long as you want, as much as you like. Good VPNs let you stream with lightning-fast speed and without throttling risks.
Does ExtremeVPN work with Roku?
Yes, absolutely! Roku does not have inbuilt VPN applications, so you can either set up your desktop PC as a virtual router or install ExtremeVPN directly on your router. For any queries regarding installation, check out our extensible knowledge base guides. Besides this, we have a dedicated 24/7 customer support team at your disposal for any guidance.
Is it illegal to use a VPN with Roku?
No! Protecting your data from prying eyes and changing your location is perfectly legal. Most countries allow you to use VPNs to defend your online activities. However, we do not recommend indulging in unlawful or unlicensed activities online, with or without a VPN.
Do I need to install a VPN on my router for Roku?
Yes! By default, Roku devices do not support VPNs, but you do not need to worry about it. Installing ExtremVPN on your home router is like a piece of cake. FlashRouter is specially built for VPN use as well. For installing ExtremeVPN on other routers, you can also check our in-depth installation guides.