Access ITV Hub Overseas with a VPN
Are you away from home and want to watch your favorite shows on the go? ITV Hub is the best solution to catch up on your favorite shows wherever you are. However, you cannot always access ITV Hub while traveling. Ensure buffer-free fast streaming by downloading the best VPN to access ITV Hub.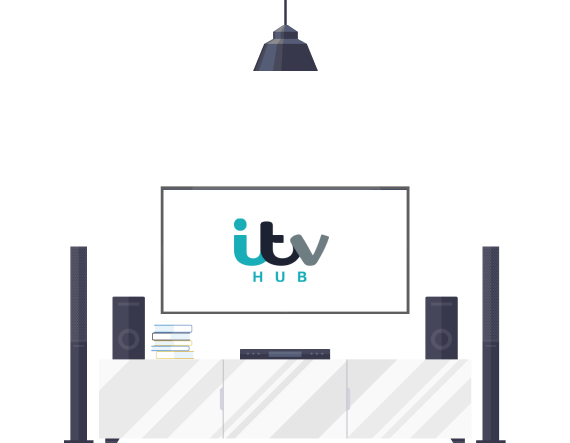 Stream
ITV Hub

Content with a VPN

ITV Hub is a free online streaming service offered by ITV, a famous British TV network. Viewers in the UK have access to all six of its channels and can watch their preferred TV series, films, news, and other media. So, if you're not in the UK, you cannot access ITV Hub without a VPN. However, a reliable VPN, like ExtremeVPN can help you access ITV Hub's library and your favorite content.
Unblock

ITV Hub with a VPN

To access ITV Hub while overseas using a VPN, follow the steps outlined below:
---
Download and Login
Download the ExtremeVPN app on your preferred device. It can be your mobile, laptop, tablet, Ipad, etc. Open the ExtremeVPN app and log in or signup for your account.
Connect
Choose a UK-based server so that you can access ITV Hub hassle-free.
---
Enjoy Streaming
Once you're connected to a UK-based server, it will grant you access to all six channels of ITV Hub. Go to ITV Hub and start streaming your favorite content.
Prevent

Your ISP from Slowing Down ITV Hub

Surprisingly, ISPs can throttle data speed on ITV Hub and other streaming services to control network load or prioritize different types of internet traffic. Slowing down the speeds can help ISPs manage bandwidth during peak hours to provide stable connections to all customers on their network. The slowing down can result in streaming ITV Hub at a lower quality or possibly stop it entirely.

You must get a stable and secure VPN to stop ISPs from playing tricks on your connection. ExtremeVPN encrypts your data and masks your IP address while routing your online activities through a secure tunnel so that your ISP cannot detect your online appearance. Even if the ISP checks the data stream, it can not distinguish whether you are streaming ITV Hub or scrolling. Also, using ExtremeVPN ensures that your ISP won't be able to throttle your internet connection.
How to Access ITV Hub
Overseas
If you try to access ITV Hub outside the UK, it will detect your IP address and automatically block your access. ExtremeVPN can help you overcome this restriction and easily access ITV Hub from anywhere.
Just open the ExtremeVPN app and connect to a server located in the UK from our list of 6500+ servers in 78+ countries. It will appear to ITV Hub that you are accessing it from within the UK, and it won't block your access to its content even if you are not near the UK.
Why Access ITV Hub with
ExtremeVPN?
Fastest

VPN Service

ExtremeVPN offers lighting-fast servers and 20GBPS connection speed to surf the web and stream anything without buffers and delays. It also has dedicated streaming servers that help in even better streaming. Its split tunneling feature enhances internet speeds so users can multitask on the internet without affecting one another. Also, ExtremeVPN's state-of-the-art protocols make it the best of all. However, you can test the internet speed with an application. You can use the speed test feature in our Mac app to help you choose the server location that best suits your requirements.
Vast Server
Network
ExtremeVPN has 6500+ servers spread across more than 78 countries. All of these servers use military-grade AES-256 encryption and allow P2P downloading. Also, these servers enable streaming and help bypass restrictions all over the globe. You can stream ITV Hub content from almost anywhere in the world. After launching the ExtremeVPN app, users can access an extensive list of servers and enjoy an unmatched streaming experience.
Why is it
Difficult

to Access ITV Hub from Anywhere?

Because of the content licenses that apply to ITVX Premium and ITVX, ITV makes it clear that ITVX only functions in the UK. In a nutshell, they can only broadcast their programs domestically, not abroad.

Your IP address can determine your location when you stream ITVX (ITV Hub) channels. Following licensing limitations, you won't be able to access any seasons, films, or shows if your IP indicates that you're outside the UK. You won't be allowed to watch shows outside of the UK, even if you've earlier registered your ITVX account there.

The Communications Act of 2003 established strict UK-only broadcasting regulations for the media sector in the UK. ITV and the BBC are two significant outlets affected by this regional licensing, which UK communications watchdog Ofcom keeps up.
What to Do if ITV
Error Code

Occurs?

If the error codes 01-01, 006, or 10-07 occur, it does not mean there is an issue with ExtremeVPN's working. It simply means that a cache or cookies issue is stopping you from accessing ITV Hub. Follow these steps to overcome this problem:
Clear your cache and cookies for ITVX;
Connect to a UK-based server;
Connect to ITV Hub again.
Frequently Asked
Questions
Does ExtreemVPN work with ITV Hub?
ExtremeVPN is the best VPN to access ITV Hub offering unlimited access to the streaming service at all times and from any location. You can get around geo-restrictions and continue watching by connecting to our VPN servers in the UK. Our dedicated streaming servers guarantee fast speed and performance for streaming content on ITV Hub. Also, our encrypted and secure connection to the UK prevents blockage, allowing you to access ITV Hub from wherever without difficulty.
What devices support streaming ITV Hub with ExtremeVPN?
Our ITV Hub VPN is compatible with all devices that run on Android, Windows, iOS, and Mac operating systems. With an ExtremeVPN subscription, you can access ITV Hub on 10 devices simultaneously with no data caps.
Will ExtremeVPN slow me down?
No, ExtremeVPN guarantees faster performance than other providers. Its 20GBps connection speeds make it clear that you can stream without lags or buffers. Also, you can test it yourself by using the Speed Test feature in our Mac app.
Is streaming other content possible with ExtremeVPN?
ExtremeVPN allows you to stream whatever you want. You can access anything, anywhere, from BBC iPlayer, Netflix, YouTube, and many other streaming websites to sports and live tv. You can also watch videos on social media like Twitter, Instagram, and Facebook, listen to music, and play games with any latency or buffer problems.
Do I need a separate ITV Hub account?
Yes, you must sign up for a separate ITV Hub account since your ExtremeVPN membership does not include one. ITV Hub is free, or you can pay for their ad-free ITV Hub+ subscription. With or without your premium subscription to ITV, your ExtremeVPN subscription will offer high-quality streaming and a throttling-free experience.
Do I get any additional benefits with ExtremeVPN?
You don't want anyone spying over your head when watching ITV in public places. By stealing the information your device delivers over Wi-Fi, thieves, ISPs, and hackers attempt to do this. Your ITV VPN encrypts your data with ExtremeVPN so no one can access it, and your connection to the internet is secure.
Are there any data caps on using ExtremeVPN?
With an ExtremeVPN subscription, users can stream content without any limitations. We'll never put a bandwidth restriction on how much or how frequently you can watch your favorite content.
From what countries can I access ITV Hub?
You can use ExtremeVPN to watch ITV Hub overseas almost anywhere. With your ExtremeVPN subscription, you can access servers in the UK and over 78 other countries.