We thoroughly discussed Grindr's security, emphasizing potential dangers and providing guidance for more secure online dating. Here, you will get qualified assistance on how to use Grindr securely, from profile privacy settings to offline meetups. Discover tips on how to protect yourself while using Grindr and make informed choices in your online interactions.
Grindr, the most popular LBGTQ+ dating app, brings millions of users together! But how strong is the privacy of this app? What actions can you take to improve your Grindr safety? We scrutinized Grindr's security and privacy settings, read through its privacy notice (so you don't have to! ), and prepared a list of all the precautions you can employ to date risk-free. The downside is that security dangers are associated with using Grindr, like location tracking, data breaches, and romance fraud, so it's wise to exercise caution.
The positive aspect is that a virtual private network (VPN) for Grindr significantly boosts your privacy! Your real location (IP address) can be concealed with a VPN. A VPN also blocks several types of spyware you don't want to cope with. The safety dynamics of Grindr are further examined in this article, along with information on important safety measures and potential threats. Keep reading to discover the main issues with Grindr and know how to protect yourself.
What is a Grindr App?
Grindr is a dating app for LGBTQ+ people. After downloading the app and signing up, users get a list of people most closely matching their interests. They can select any person on the list to connect with. No restrictions are placed on the words and images shared through the app.
Additionally, users can choose their nearest people from this list. The app has an "Explore" option, allowing users to find others in a certain area if they want to explore more. However, only premium customers have access to this feature.
The app is unavailable in Turkey, Qatar, Jordan, Indonesia, Lebanon, Pakistan, United Arab Emirates, Crimea, North Korea, Sudan, Syria, Cuba, Saudi Arabia, and China.
Grindr Age Restriction
Grindr has certain age restrictions for users, but are they stringent enough to prohibit teens from using the service? Only those at least 18 may sign up according to the app's regulations. However, this platform has been used by young teenagers who registered on it multiple times. Signing up is easy without strict verification, allowing teens to fake their identities.
What Should Parents Know About Grindr?
It is concerning to have a teenager accessing the Grindr app at home. The cycle of joining Grindr is one that rarely has a happy ending. In addition to the details mentioned above, parents need to be aware of additional aspects of this application.
Exploitation and Bullying
Grindr may be a method for your teenager to meet new individuals who share their interests, but you do not know who they will end up in contact with. Your teen's new boyfriend or girlfriend can be a bully or a sex offender. Kids are the victims of these predators because they are helpless in such circumstances.
It Can be Addictive
Psychologists claim that dating apps are addictive because they see a pattern of repetition in their users. Teens will sign up, engage in pointless sex, and feel bad. Like virtually every dating app, Grindr has the potential to establish patterns for your child that are difficult to break and may lead to depression.
It Can Lead to Depression and Anxiety
Teenagers who use Grindr feel vulnerable and alone because they cannot make true connections in their community or with others their age. Since most users of these apps are simply looking for hookups, your child is unlikely to meet anyone serious about companionship. However, your child may experience emotional distress if they cannot establish a genuine attachment.
How Safe is Grindr?
Let's get right to it and respond to the key query: Is Grindr secure and private? Grindr is regrettably risky, much like many other dating apps, including Tinder, OkCupid, and Bumble. Such sites are a goldmine for hackers, con artists, and other online predators aiming to damage users' security, steal their data, or threaten them.
Grindr Security Issues
The following are the most frequent security issues that Grindr users may run into:
Privacy Concerns
Grindr is a free dating app like many others. It implies that Grindr will gather some of your private data to access it. When accepting Grindr's privacy statement, you authorize the app to collect the following information:
Email address or Contact number
Your personal information (date of birth, name, interests)
Cookies and user activity
Software and hardware information
User location
How does Grindr use this information? The service provider will use this data to protect its interests, whatever those interests may be, the corporation declares. It can also share your data with outside marketing partners and use it for machine learning. It implies that Grindr is free to provide anyone access to your data in terms of privacy.
If you're starting a new account or using Grindr for the first time, you can choose not to accept the cookie collection. Additionally, you have the option to download your data. It can be helpful to learn what information Grindr has about you. The Wall Street Journal found in 2022 that Grindr has been giving up user information to marketing firms for years. In addition to being criticized for privacy concerns, such as violating the GDPR and disclosing user health information, such as their HIV status, Grindr has also come under fire.
Data Exposure
2018 saw the first large Grindr data breach. Security specialists concluded that the app communicated its users' medical data with third parties, including HIV diagnoses.
Additionally, Grindr's privacy problems still need to be fixed. The Data Protection Authority of Norway's decision resulted in the platform receiving a $11.7 million fine for yet another violation. The GDPR, the primary regulation governing online privacy in the European Union, was cited as being infringed by Grindr's privacy practices beginning in 2021.
Even though the GDPR only applies to nations in the EU, users should use caution when creating Grindr accounts and giving out personal information to outside companies.
Hacks and Scams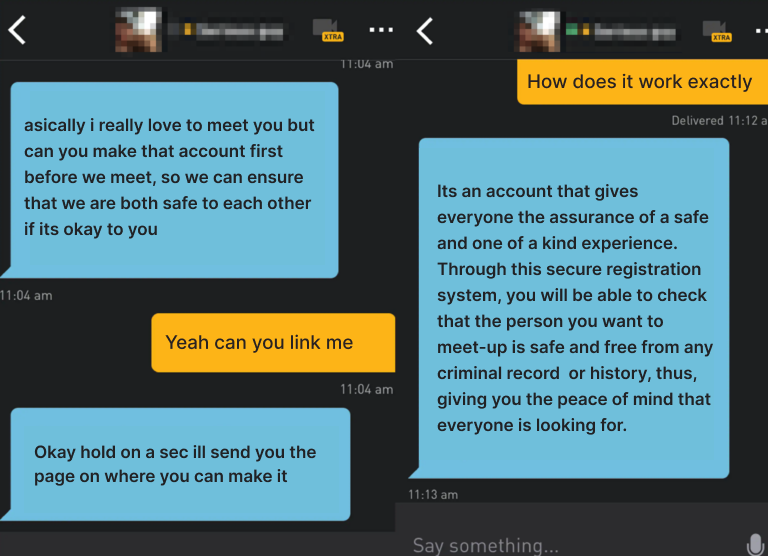 Users of well-known social media platforms and dating applications like Grindr frequently fall victim to numerous scam games. To fool you into disclosing personal information, revealing your credentials, or clicking a harmful link, con artists may adopt your persona or employ another social engineering technique.
Romance scams and catfishing are the two types of fraud that happen the most on Grindr. Here are a few specifics.
Romance Scams: Scammers use Grindr to trick those looking for love online. A wicked person may pose as a prospective partner, but eventually, friendly flirting may develop into blackmail or identity theft. In other situations, con artists persuade victims to contribute to phony cryptocurrency schemes, demand access to their online banking information, or beg for a loan to help them with a false issue (and then vanish with the data or money).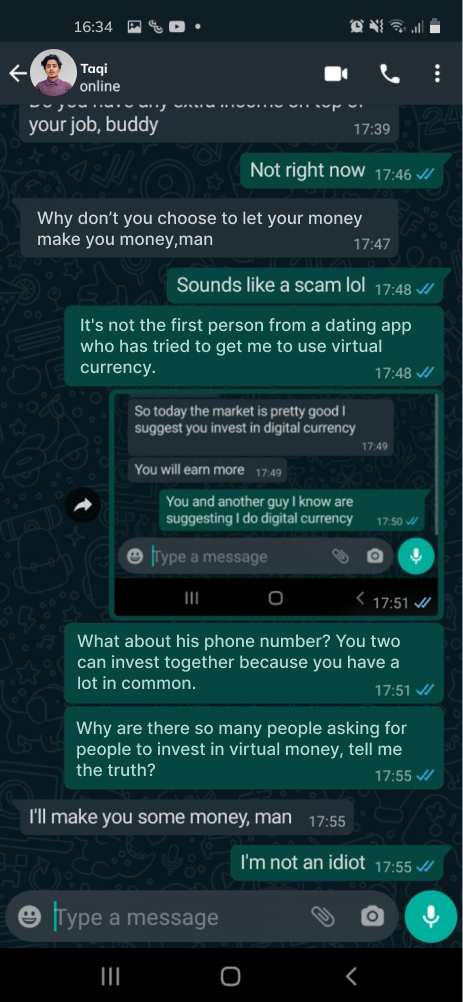 Catfishing: Building emotional ties and trust with a victim to eventually deceive them into disclosing personal information constitutes a prevalent Grindr security concern. Typically, scammers target unknowing victims using bots and false profiles. Here, you may discover how to spot a dating app bot. Researchers have also recently found a "reverse catfishing" fraud on Grindr. To obtain users' private information, an attacker tries to persuade them to register on a phony "LGBTQ+ people protection" website.
Tip: Use caution while using Grindr and whenever you receive emails claiming to be from the app's support staff. Such a warning could resemble a phishing effort. For example, to change your password or regain access to your Grindr account, clicking the offered link will direct you to a dubious website that compromises your personal information.
Location Monitoring
Your precise geolocation is one of the most private pieces of information you disclose with Grindr, as was already discussed. Dating apps frequently ask for this information because it lets other users see who is nearby and set up offline meetings. However, it might also pose a risk to your physical safety. People have frequently reported their most awful experiences online after being tracked and harassed due to exposing their whereabouts on Grindr. Remember that you are always free to hide your precise location on Grindr (more on that in a moment).
Blackmail and Cyberbullying
On Grindr, users frequently upload their photographs and videos, including private ones, which raises serious security issues. Other users with bad intentions could use these personal details to extort or abuse you. The following are some typical dangers to watch out for:
Blackmail (sextortion): During a video conference, a con artist can request that you send them private images or capture your screen to harass or extort you subsequently. Users of Grindr have reported a lot of illegal and nasty activity on the app. Unfortunately, platform moderation is insufficient to eliminate all potential threats of this nature.
Cyberbullying: Bullies, criminals, and sexual predators frequently prey on innocent users of dating apps like Grindr, who are typically children and teenagers. Additionally, despite being only for adults, Grindr's lack of strong identity verification makes it exceedingly dangerous for kids to use.
How to Maintain Privacy on Grindr?
Let's change the app settings to reduce some of the privacy and security risks now that you're aware of the main Grindr issues. Here are several Grindr safety features that make the service more secure for you to utilize.
Set a PIN for the Account
If you set a PIN, the Grindr account will have additional protection from potential hacks. Here are a few easy steps to follow:
Launch the Grindr app.
Go to settings.
Look for the "Security and Privacy" section.
Tap Pin.
Tap the "Enable Pin" button and set your account pin.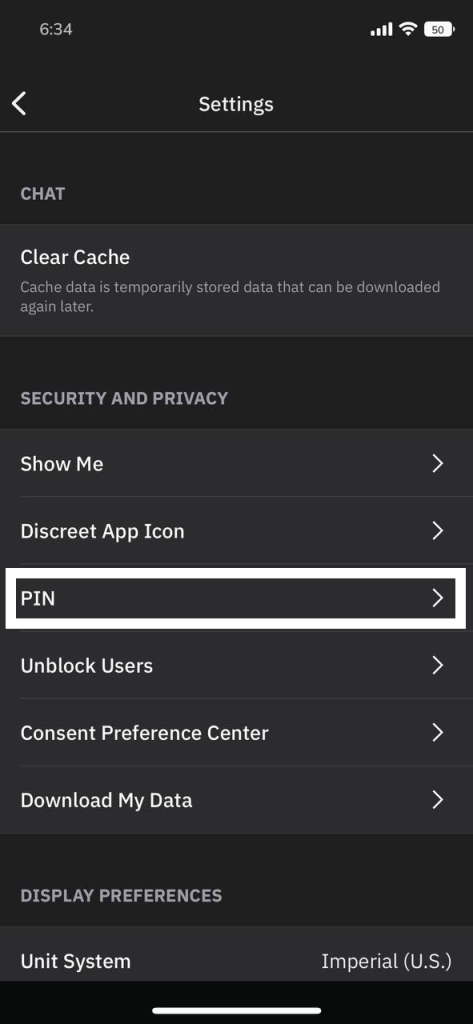 Hide Location-based Searches
Your Grindr profile will be hidden from searches according to where you are physically if the "Show Me in Explore Searches" option is disabled. Follow these steps to turn it off:
Open Settings.
Go to Security and Privacy.
Tap Show and then turn the button "Show Me in Explore Searches" off.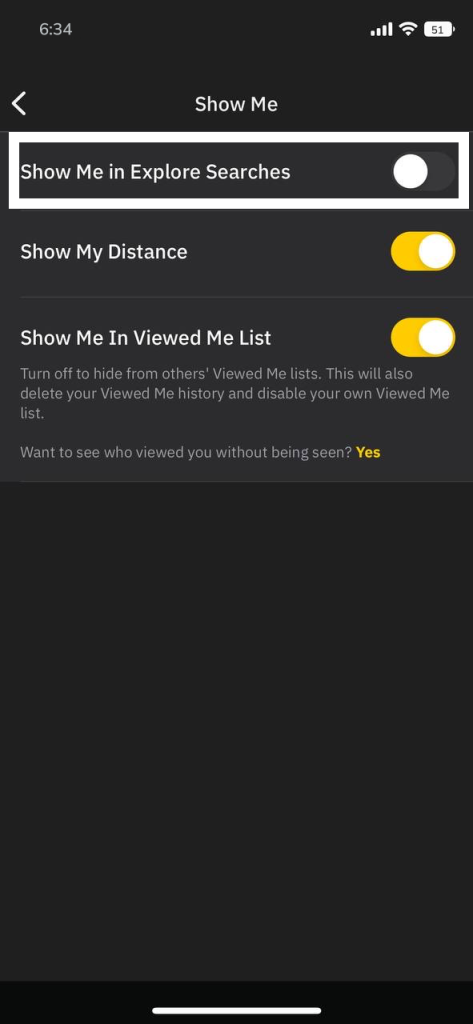 Hide Profile from Viewed List
Follow these procedures to remove your account from other users' Viewed Lists:
Go to Settings.
Open the Security and Privacy sections.
After tapping the Show option, turn off the "Show Me In Viewed Me List" button.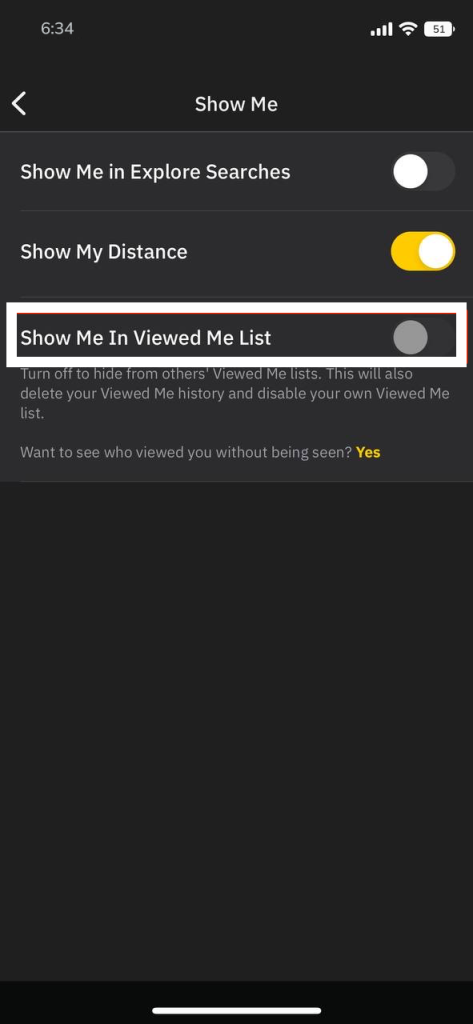 Disable Show Distance
Grindr uses the GPS in smartphones to provide users with approximate geolocation by displaying the physical distance between their present places. How to stop the app from exposing this information is as follows:
Open your account Settings.
Go to the Security and Privacy section.
Open Distance and Visibility.
Select the "Hidden" option.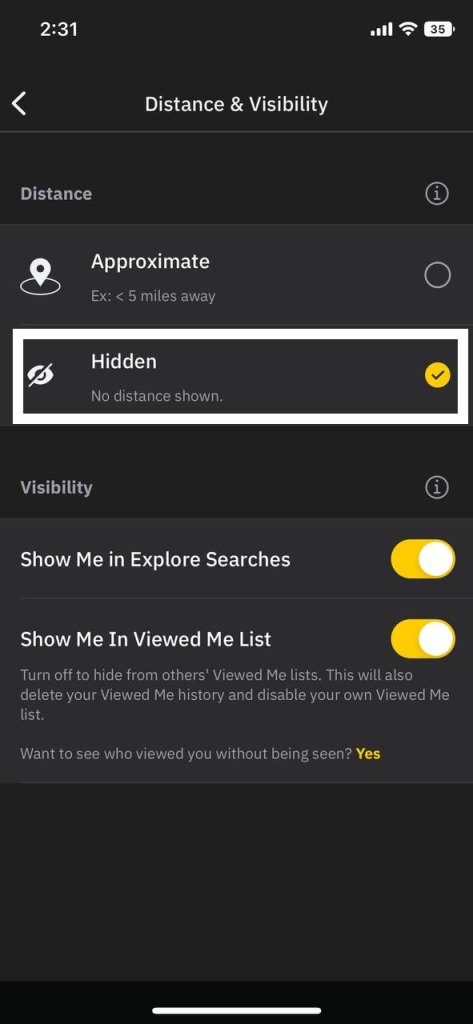 Discreet the Grindr App
Here's how to do it if you want to remove the Grindr app from your phone's menu for privacy or other reasons:
Go to Profile and open Settings.
Open the Security and Privacy option.
Select the "Discreet App Option" and select your preferred choice.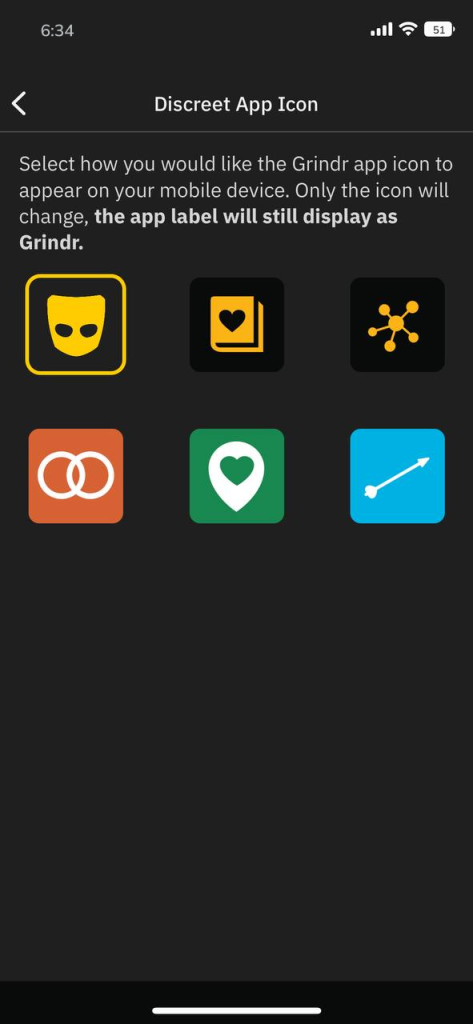 Report and Block Suspicious Profiles
You can block any profile and report it if you encounter any unpleasant behavior from a specific Girndr user or believe it to be a bot. It is how you do it:
Visit the user's Profile you want to block.
Select the Blocking option located at the top right corner.
Select the Report of Block option.
Note: Unfortunately, maintaining your safety on Grindr by changing the settings above doesn't guarantee complete protection. You might want to take further precautions to protect yourself since there is still a substantial chance that you will become a victim of a Grindr data theft, fraud, or hack.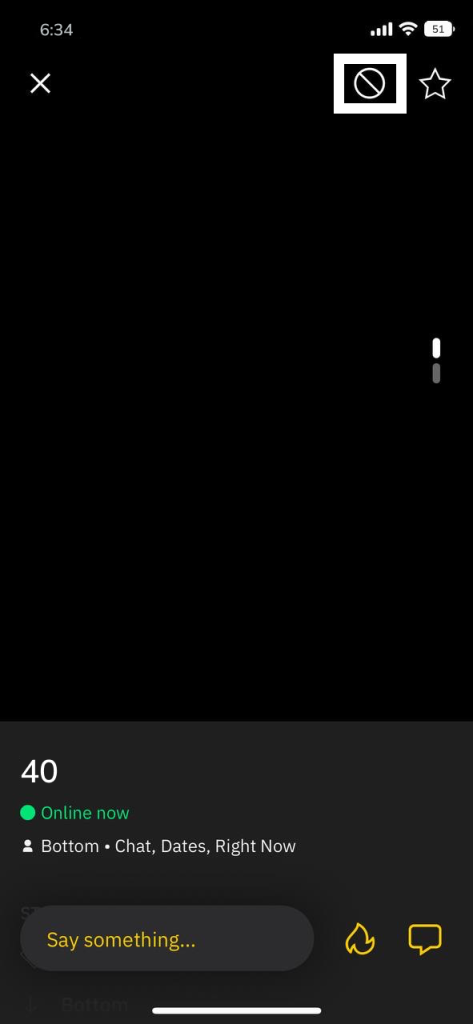 Protect Yourself on Grindr: 9 Simple Ways
Share Photos without Metadata
You can store information for each image you take. Anyone with little tech knowledge may find the location of a particular photo using these tiny pieces of information. Therefore, carefully delete this information before transmitting any photographs to other Grindr users. You can do this on iOS by hitting the information button and deleting the location information. Open your Gallery on Android, press Share, and then choose the "Remove location data" option.
Disable the 'Show Distance'
Grindr matches you with local users and displays the travel distance between you and them using the GPS position of your phone. While this makes it easy to meet up, it also lets other users know where you are in real time. You can turn off the "Show Distance" option in your settings for privacy and security reasons. How to do it is as follows:
Launch the Grindr app.
Open Settings.
Open the Security and Privacy section and click the Show Me option.
Turn off the "Show mMy Distance" button.
Turn off "Show Me in Viewed Me List" and "Show Me in Explore Searches," too, if you want to be extra cautious.
After you turn off this function, other users can still see your profile based on approximate proximity. You can turn off location sharing in your device's settings if you don't want to reveal where you are.
You can even fully alter your location if you so like. ExtremeVPN would be more dependable than a fake location tool for obtaining a falsified location.
Don't Overshare Your Private Data
It is the most obvious (but crucial) advice on the list. Even the most cutting-edge privacy protections will only help if you use the app carefully. Don't divulge any information that could enable scammers to steal or extort your data. Keep your phone number, email private, and address, in particular. Additionally, never divulge any confidential information, including banking and medical details.
Stay Cautious When Going Abroad
While the LGBTQ+ population enjoys full acceptance in most Western democracies, this may not always be true. Additionally, using Grindr is prohibited in several nations, including Iran, Qatar, the United Arab Emirates, Turkey, Indonesia, China, and more. Therefore, when traveling abroad, confirm if the app is permitted in the nation you're visiting. Remember that regional ISPs can see what you're doing online if you don't conceal your virtual location.
Have Your Transportation Planned Out
Don't wing it during the first meeting you have through Grindr. Ensure you have a precise strategy for getting there and a clear plan with a backup for returning home. You never know what can happen during a wild night out with friends. Don't hesitate if you think you could be too drunk or intoxicated to drive. Plan to arrange a ride, board a train, or even book a last-minute room. Any strategy is preferable to none.
Avoid Suspicious Links and Potential Grindr Bots
As already established, Grindr users are frequently the subject of phishing attacks and other nefarious methods. Therefore, developing your ability to recognize and steer clear of such con games is crucial. Pay attention to a few typical warning signs of social engineering dangers. Never engage in links supplied to you by a stranger. Additionally, only offers that seem good enough to be true and unanticipated financial advice.
Use a VPN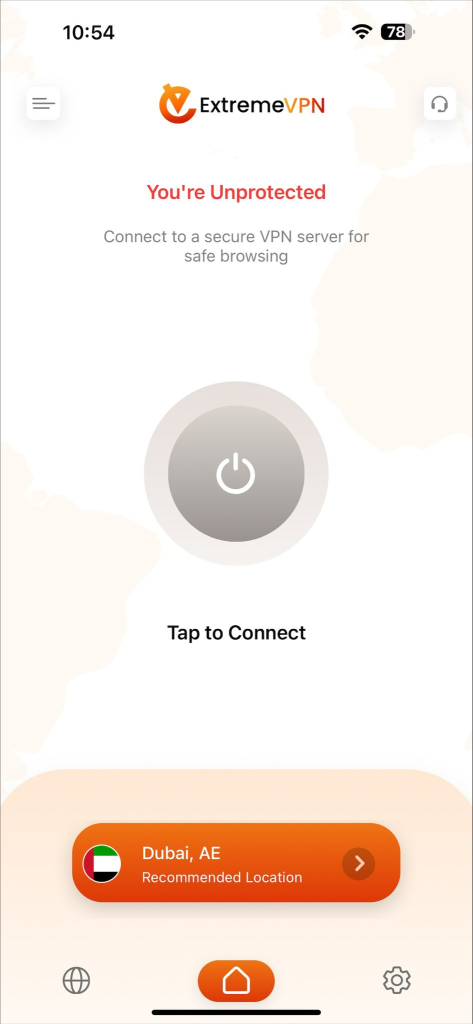 Utilizing a trustworthy virtual private network (VPN) service is one of the best ways to safeguard your online relationships and browse confidently. This utility uses a remote server's address to mask your IP address from ISPs, hackers, and other potential snoopers. A VPN also encrypts your traffic, ensuring your activities are completely confidential and untraceable. Last but not least, a service like this is a useful defense against numerous cyber threats like malware, phishing, and con artists.
ExtremeVPN is the best option available to make this all happen. It provides you with the best privacy and security features. With ExtremeVPN, you don't have to fear hackers, ISPs, or government. It ensures you can anonymously browse the internet from anywhere you want.
Hide Your Valuables
Of course, meeting at a neutral location like a hotel is safer. But those costs can add up quickly, especially if you're in a large town and prefer a clean motel vibe. It leaves the choice of hosting or not for the majority of us.
There are benefits to being on your property—you know the layout, you can supply the refreshments, you can ease concerns about hidden cameras, etc.—but you may make it more secure by hiding any valuables. This list includes prescription drugs and credit cards, cash, and laptops. Put it away from sight and out of reach, even if it's not fun if it makes you feel better at ease.
Create a Strong and Unique Password
To prevent your Grindr password from getting into the wrong hands, update it frequently. Additionally, avoid using the same login information across many accounts, as hackers may try to guess your password. Create a strong password that combines uppercase, lowercase, numbers, and symbols. A password management program like MacPass or LastPass to store your credentials securely is recommended for increased security.
Use a VPN for Grindr
Choose a Reliable VPN Provider: Not every one of the VPNs is equally safe; some (such as the ones that advertise themselves as free) cause more harm than benefit. The issue is that "free" services frequently become revenues by marketing your personal information to outside companies. For this reason, we advise choosing a trustworthy premium VPN like ExtremeVPN. It adheres to a No Logs policy, which prohibits the service provider from gathering, storing, and disclosing information about your connection and activities.
Download and Install the ExtremeVPN App: Most devices and operating systems are compatible with ExtremeVPN. You can specifically select an iOS VPN or an Android VPN solution. ExtremeVPN has mobile apps for most devices. You can easily set up ExtremeVPN on your router for other devices and enjoy its services.
Sign up and Subscribe for ExtremeVPN: Choose the pricing plan that best suits your needs after creating your account.
Connect to a Server and Use ExtremeVPN: More than 6,500 servers are available from ExtremeVPN in 78 nations. The expanded browsing flexibility made possible by this vast server network keeps your connection strong and secure. Once you connect to a server in Canada, Spain, Poland, the US, Australia, or Italy, you must now replace your real IP address.
Browse Safely: Open Grindr to begin a safe online dating journey. With a risk-free 30-day money-back guarantee, you can test ExtremeVPN risk-free right now and use Grindr without worrying about your privacy.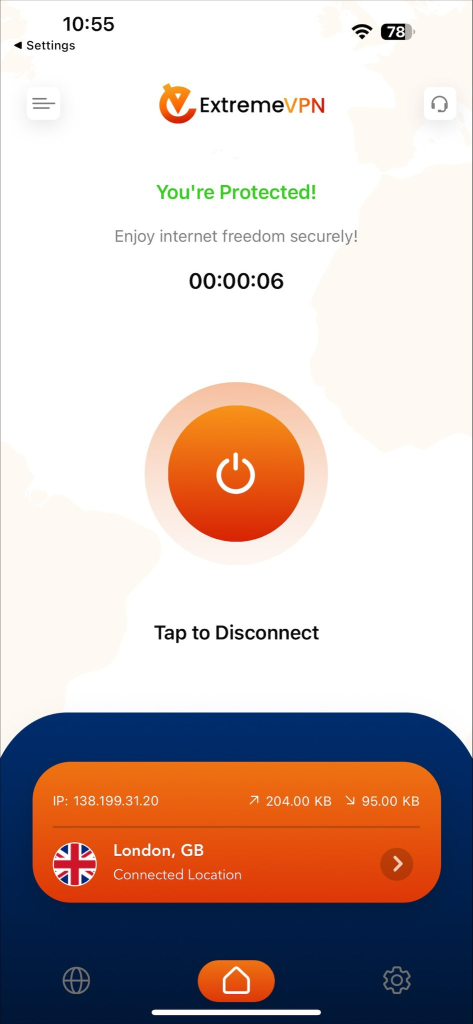 The Risks of Anti-Gay Regulations: When is it Illegal to Use Grindr?
The question "Is Grindr dangerous?" may come to mind. Grindr is only allowed in some regions worldwide, and using the application can be extremely risky unless you take numerous privacy precautions.
You must behave appropriately if you discover traveling to a nation where Grindr is prohibited or homosexual behaviors are not accepted. Sometimes, a VPN keeps bisexual and gay men secure enough to use. Still, in countries like Iran or Qatar, where homosexuality is a major crime, you might have to stop using Grindr and similar dating apps completely. We've added a few extra pointers and suggestions for utilizing Grindr in these areas.
Taking Grindr Abroad Safely
It might be fun to date while on vacation and meet someone new. You should use far greater caution than at home, though, in some places. Every time you launch the Grindr app, your location is automatically adjusted.
It implies that your vacation destination's ISP will be able to detect your use of the app and restrict it. Are you about to travel and utilize Grindr? Always be careful to research the regulations and general views towards homosexuality in the area where you want to travel. You can easily find an overview of international laws governing sexual orientation on the interactive map of the ILGA.
Want to evade your ISP by changing your IP address? You can quickly and easily access thousands of international IP addresses with a virtual private network (VPN) like ExtremeVPN.
Be Extra Mindful With Location Sharing!
The privacy issues are increased in areas where being gay is illegal because of Grindr's well-liked location-sharing feature. In the past, it was discovered that the Egyptian government used Grindr to locate and detain gay residents even though homosexuality is not technically against the law in Egypt. People in Morocco began making phony accounts on online dating sites like Grindr in 2020 to expose others. Many gay males, as a result, were abandoned by their families and ended up on the streets.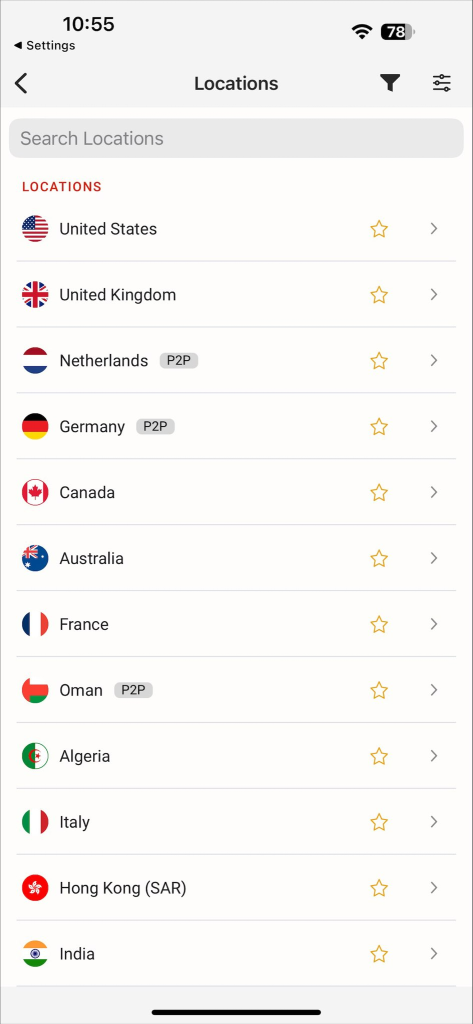 Conclusion
Grindr may have attempted to simplify the lives of those who identify as LGBTQ, but with so many users, it is having difficulty maintaining user quality. If your teenagers are using Grindr, this is cause for alarm, and you should stay on the lookout for it.
Conversely, Grindr may be a safe platform if used correctly and appropriately. Users must prioritize their safety, educate themselves on internet safety recommended practices, and report suspicious behavior immediately. People can safely interact with others on Grindr and enjoy the benefits of social networking by taking proactive measures and being aware of potential pitfalls.
FAQs
What is Grindr?
Grindr, the most well-known online dating site for LGBTQ+ people, was founded in 2009. Because it is a location-based network, users nearby are discovered using your GPS data. You may browse profiles, communicate, swap photographs, make video calls, and share geolocation and videos on the platform.
Is Grindr safe to use?
Grindr, like any other location-based dating app, is incredibly risky. Data collection, potential privacy breaches, fraud, location monitoring, online harassment, and theft are all threats to your cybersecurity. This post will teach you more about these threats and potential safeguards.
How does Grindr work?
Users can establish profiles on Grindr and publish their locations using the GPS on their cellphones. You can use this to see how far away other Grindr users in your area are. You can initiate a chat with someone else, send images, place calls, and more on Grindr. Grindr is comparable to others based on location dating applications like Tinder overall. The primary distinction is that Grindr was created particularly with LGBTQ+ individuals in mind.
Can someone track you on Grindr?
Grindr provides your general location even though it doesn't show your exact location. Numerous studies assert that pinpointing a user's precise location is relatively easy. This article teaches how to protect your privacy when using this app.