How to Configure ExtremeVPN PPTP on D-Link DIR-2680 Router
You must set an ExtremeVPN tunnel on your router to enhance the safety and privacy of devices connected to your home. This procedure works even for devices that don't support a VPN connection.
This article will guide you through configuring ExtremeVPN on D-Link DIR-2680 Router using Software version v1.20 and Hardware version A1. Before proceeding, make sure you fulfill the following criteria:
Working Internet connection
A router supporting a VPN connection
A premium ExtremeVPN subscription (click here to buy one if you're a new user)
You must log in to the VPN member area to check your VPN credentials. Follow these instructions to know how you can do it:
Sign in to the Member area using your ExtremeVPN email and password.
Go to the Subscriptions tab, and scroll down to check your VPN credentials.
You can now view or copy your login information.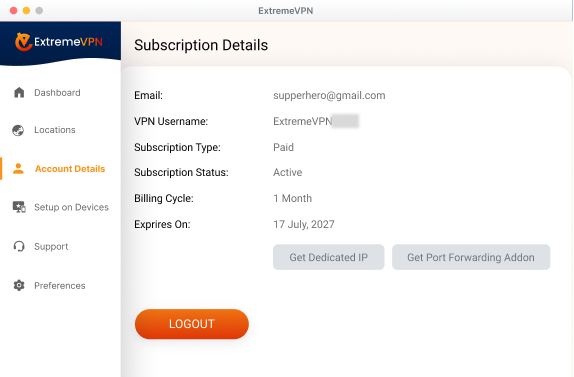 Remember your username or write it down somewhere. To see your password, click on the Eye icon button, which will display the key.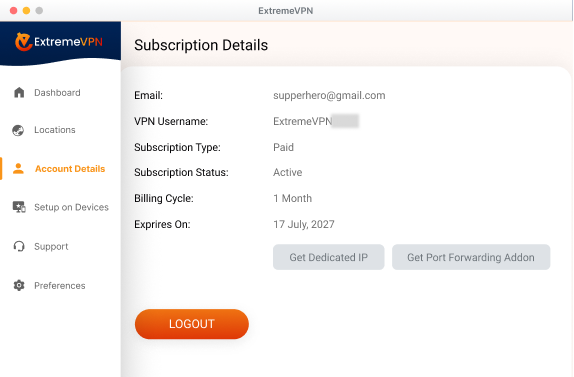 Now, use these credentials to configure your D-Link router manually.
Before starting the setup, connect to your D-Link router first. For that, insert this IP address in your default browser tab: 192.168.0.1. (If it fails to work, go to your router's manual guide to check the Default Gateway Address). Now sign in through your router's username and password.
After you log in, head to the Settings option, and choose Internet from the list that appears.
Type in the following details now:
PPTP Server IP Address: (Enter the IP of whatever server you desire to connect to.)
Now insert your ExtremeVPN credentials.
Reconnect Mode: Choose Always On
Address Mode: Select Dynamic IP
Type 8.8.8.8 in the Primary DNS Server.
Type 8.8.4.4 in the Secondary DNS Server.
After completing all the fields, press the Save button to activate the connection.
ExtremeVPN is now connected to your D-Link Router.
Got help from this article? Drop your valuable comments below. Your recommendations matter to us and everyone else in the entire cyber security community.